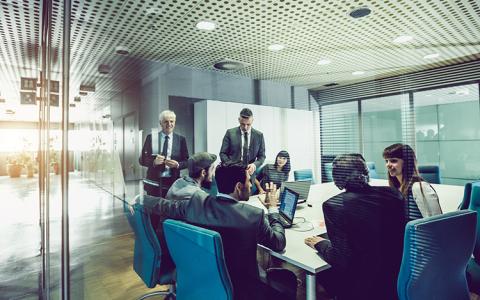 May 22, 2023
(AssetMark) Your ability to attract and retain clients means everything to the success of your financial advisory practice. Excellent client experiences can help you retain existing clients and attract new prospects. However, it's impossible to offer valuable financial insights and services without a solid understanding of your client base.
As a financial advisor, understanding your clients goes far beyond knowing their financial goals and risk tolerances. You need a deeper understanding of each client's values, fears, and aspirations, as well as clarity on how these factors impact their financial decision-making. 
Client reviews can help you gain critical insights that help you build stronger relationships, provide tailored services, and ultimately help their clients achieve their long-term financial goals. This blog explores how you can use client reviews to understand more about the people you serve.
What Is a Financial Advisor Client Review? 
A financial advisor-client review occurs when an advisor meets with their client to assess their financial situation and progress toward their financial goals. This review offers a forum where advisors can examine their planning efforts on behalf of the clients and evaluate future strategies. A formal review also offers an opportunity where clients can discuss changes to their life situation, finances, risk tolerance, goals, timeframe, and more.
During the review, the advisor will assess changes in the client's circumstances, review their investment portfolio, and make recommendations for any necessary adjustments to help them stay on track toward their goals. The goal of a client review is to ensure that the client's financial plan remains relevant and effective in light of any changes in their life or the broader economic environment.
How Frequently Should Client Reviews Take Place? 
It's important to stay connected to your clients and check in on a regular basis. Client reviews should take place annually—at a minimum. These reviews should be scheduled well in advance so your clients don't have to wonder when their next check-in will take place.
For clients with complex situations or evolving needs, the frequency of reviews should increase. If you want to develop more meaningful relationships with clients (and, as a result, potentially spur client referrals), your client review meetings should be held quarterly or semi-annually. Automated email updates can also help supplement these in-person reviews and keep your clients in the loop without disrupting your workflow.
Communication is the foundation of a positive experience for your clients. The goal of these reviews is to ensure you are offering the best services for your clients by keeping your strategies current. Additionally, you want to make clients feel valued by showing up on time, being focused, listening carefully, and putting effort into their accounts.
How Is a Client Review Different from Other Touchpoints? 
Every financial advisor should have an open-door policy for their clients. Clients should feel comfortable reaching out to their financial advisor whenever they have questions or concerns about their account—or anything affecting it. However, the client shouldn't feel responsible for connecting with their advisor on a regular basis.
Client reviews are formal engagements that should be initiated by the advisor, driven by an agenda, and memorialized with comprehensive notes about what was discussed. This is the perfect opportunity to reinforce your value proposition and remind clients why they've chosen to work with you. This regular review also gives you a chance to suggest including other members of the family, thereby establishing a relationship with them as well. Client reviews can provide opportunities to manage concerns or gather positive feedback that can help drive future client interactions.
What Types of Information Should Be in a Successful Client Review? 
Every client review is different and has varying levels of interest, expectations, and needs. As a financial advisor, you should approach every review with the same goals in mind: 
Apprise clients on the status of their account
Provide information on what has impacted the account since the last meeting
Cover what may impact their account in the coming months
Uncover any information that may alter the existing plan
Reinforce your understanding of the client's values and ideals
The details and complexity of each point will vary due to your client's account and preferences. 
Use an agenda or checklist to ensure all bases are covered and nothing is missed. Your review should include at least three perspectives to see the larger picture and dial into the granular details.
A broad market and economic overview: As an ultimate guide for the financial conversation, start with a general layout of the current landscape that is impacting your client, the market, and their account. Clients value the education financial advisors can provide. Setting the stage for the account discussion helps clients understand what has impacted their portfolio and provides context for any recommendations you may make.
Changes to the client's situation and outlook: Dial in on any unique factors impacting the account with a deep dive into your client's current status. A lot can happen over the course of a few months. Divorce? New grandchild? Deciding to work longer or retire early? New job or expensive hobby? A change in their willingness to stomach volatility? All of these things should be discussed and reflected in an updated wealth management plan.
The client's account performance and comprehensive wealth outlook: Finally, get into the fine details of your existing strategy and future expectations. Conclude your client review with an overview of the client's portfolio (performance, allocations, etc.) and plans (estate, tax, retirement, etc.). This doesn't mean centering the conversation around numbers; instead, focus on the value you add. Discuss performance and highlight how your planning impacted the returns. Help them understand what has transpired and how it will affect their planning going forward. This will naturally lead to a deeper conversation that can inform the services you provide.
How to Approach Client Reviews During a Market Downturn 
A market downturn is a double-edged sword for financial advisors; it creates an environment of anxiety and the potential for poor returns for clients, but market volatility also offers an opportunity for financial advisors to demonstrate their worth and expertise. While you can't control the markets, you can choose the right moment to offer support, guidance, and reassurance.
Client emotions will be running high when there are many unknowns. A financial advisor's calm assurances and expertise are imperative during a client review in a downturn. Handled well, client review meetings can alleviate investor unease and open up new avenues of discourse. Grateful clients are more likely to provide testimonials, case studies, and positive online reviews if they appreciate your support during a challenging and unnerving time.
How Does the Review Process Benefit Clients? 
This review process offers clients an opportunity to gather information, ask questions, better understand their financial position, and learn more about what stands to impact their financial well-being. Client reviews can offer solace during market volatility and help clients take advantage of services they might need but haven't considered. 
Here are three ways clients benefit from a formal review process.
Client Benefit 1. The client becomes more confident.
Most people are unsure about finances and investments. Meeting with their financial advisor gives clients confidence that they are taking charge of their financial future and it's in good hands. The review process provides a structured time for clients to learn more about their financial situation and ask any questions they might have. You want to encourage positive reviews and referrals from clients who feel confident about your value.
Client Benefit 2. The client gains a better understanding of the markets and their portfolio.
The educational information provided during a client review helps clients understand the economic and financial news they are exposed to daily. It's important to offer rational context to help calm fears caused by sensationalism and hypotheticals. Clarity and strategy offered by an expert financial advisor can help reduce anxiety.
Client Benefit 3. The client uncovers information about themselves.
Most clients don't have an opportunity to discuss their finances with someone who has an outside perspective. As an advisor, you know the specifics of their situation and can also provide an objective assessment. Financial advisors are uniquely positioned to help clients view their potential pitfalls and opportunities through multiple lenses, offering informed guidance.
How Can the Review Process Benefit Advisors? 
A formal client review process helps financial advisors to strengthen their client relationships, deliver a higher level of service, and build their businesses.
Advisor Benefit 1. The review showcases the financial advisor's value.
One-on-one meetings give financial advisors a chance to work closely with the client and understand their unique concerns, goals, and challenges. During this meeting, the advisor can demonstrate the expertise and knowledge used to support their account from behind the scenes. It's important to make your clients feel heard, understood, and supported—especially during uncertain times. Client reviews can also offer a good time to go over your pricing, packages, and service options.
Advisor Benefit 2. The review makes the financial advisor more referrable.
A stronger connection with your clients helps you build a better reputation in the community, increasing word-of-mouth referrals. When your clients understand the role you play in their wealth management success and feel like they can trust you, they are more likely to recommend you to friends and family. Crucial communication that occurs during the client review process is the foundation of ongoing client engagement and satisfaction. This part of the client experience is what helps encourage positive business reviews that can bring in a steady flow of prospects and leads.
Advisor Benefit 3. The review provides advisors with additional business opportunities.
Do you have a new product or service you are offering? Personal recommendations to expand or change services are much more compelling than an email blast or targeted digital marketing campaign. Client reviews are the perfect time to meet with your client's family members and suggest additional beneficial services for their account. It allows financial advisors to delve into the various services they make available and why they are appropriate.
As the Great Wealth Transfer picks up steam, having a relationship with a client's family will be an important element in retaining heirs when the time comes for a transition. During these meetings, you have a chance to learn more about the family, discuss estate and legacy planning, or just get a sense of services that might interest them. 
Let's consider what you should have in place to make client reviews a powerful point of connection for your firm.
4 Components of an Effective Client Review 
A client review is only as good as the preparation that went into it. Being well prepared puts clients at ease and helps financial advisors make the most of their time with clients. The client review should include these four components:
Component 1. An Agenda or Checklist
Client review optimization means defining your discussion strategy in a structured format. A physical list of talking points shows preparation and forethought. It helps keep the meeting moving at a comfortable pace and ensures all important topics are covered. It's also important to note that your agenda should never replace listening carefully to the client—instead, it should include points where you specifically ask for their perspectives, personal information, and questions.
Component 2. Account Details: Ownership, Beneficiaries, Etc.
Do you have verified account details in place? Life happens, and clients don't always think to alert financial advisors about events that impact their wealth management situation. The client review is the perfect time to capture anything that needs to be updated in the financial advisor's records or in the account paperwork.
Component 3. Professional Recommendations
Are you considered a Center of Influence (CIO) in your professional circles? Now is the perfect time to start offering professional recommendations and asking other professionals to return the favor. 
During a client review, financial advisors often uncover gaps in coverage or services that need to be filled. Keep a go-to list of attorneys, CPAs, and other professionals who will work well with your clients. Solid recommendations won't just improve your networking connections; your committed and comprehensive support will also be valued by your clients.
Component 4. Actionable next steps 
So, where do we go from here? Don't let the client leave without establishing a clear path forward. You might take this time to set an appointment for the next client review, so they know when they're scheduled to see you next. Review any follow-up tasks assigned to you or your client (like putting together values-driven investing recommendations or considering their goals for transitioning the business), ending the meeting with a clear summary of next steps.
7 Tips for Client Reviews that Get Referrals
Tip 1: Create processes for customized meetings
The client review may be the only time every year that an advisor interacts one-on-one with a client. Therefore, the experience has to be strong or powerful. The aim is to make the delivery of the review feel customized and unique. Ironically, the secret is to have a process and procedure that is standardized and efficient to ensure white glove service every time.
Tip 2: Let your clients do the talking
You want to allow the client to talk about the things going on in their lives that matter most. Adjust to be a better listener, so you can prepare better solutions for them.
Tip 3: Offer mid-year or quarterly reviews
Offering reviews more than annually, especially for larger clients with higher levels of complexity, helps to ensure that your clients feel you're on top of their accounts and leaves less opportunity for them to wonder and wander toward other financial advisors.
Tip 4: Schedule the next review before the meeting ends.
Advisors should utilize the dentist approach to scheduling the next meeting. Ideally, you don't want the client to leave this meeting without scheduling the next one. Knowing that there is a review meeting on their calendar can also assuage client concerns during volatile markets.
Tip 5: Ask clients to fill a preference questionnaire.
Providing the client with a preference questionnaire is also going to improve their overall experience. You want to meet clients where they are. Especially after the pandemic, client preferences in terms of how they are met, and the content they receive will have changed.
Tip 6. Complete the life events questionnaire.
The transitions or life events questionnaire that explores changes in the lives of clients helps advisors stay apprised of all major life events passed or upcoming that may affect financial plans or investment goals. Some advisors give their clients the form to complete in advance or in office, and others will simply go through the questionnaire orally during the meeting.
Tip 7: Share Family Preparedness Kit.
The Family Preparedness Kit helps the beneficiaries of a client understand the steps and locations of important information in the event something happens to their loved one. This is a deliverable many advisors are including during this meeting.
Make the Most Out of Your Client Review Process
Do you want help with materials, strategy, or outsourced support to help improve your client review process? AssetMark's tools and automation solutions can help you accomplish more and take each meeting in stride.
Leverage AssetMark's technology and experience to streamline your review process, provide personalized advice, and help deliver better outcomes for your clients.
With AssetMark on your side, you can focus on building long-lasting relationships with your clients for long-term growth. So why wait? Contact AssetMark today to see how we can help transform your client review process and take your practice to the next level.