October 3, 2021
(AssetMark) Your clients have placed their financial future in your hands—that's a serious responsibility. In order to provide the level of service your clients deserve, you need to ensure that your practice is running smoothly. But managing invoicing, investment research, staffing, and the small galaxy of other back-office tasks leaves little time left over to focus on your own future. How do you grow your practice when you're already spending all your time managing the day-to-day operations?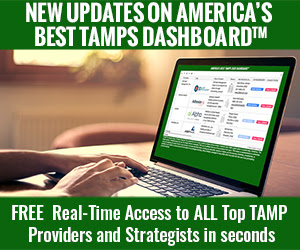 Fortunately, growing a financial advisory practice doesn't have to be a huge endeavor. Like most things in life (and finance), taking small steps now can lead to major outcomes in the future. We've assembled five high-impact tips you can take so that growing your advisory practice can easily be accomplished even when you're at your busiest.
1. Build a Strategic Plan
It's tempting to say, "Of course I have a plan!"
But the reality is, many advisors could benefit from establishing a more formal, thorough, and well-documented strategic plan. For many, their plan is really more of an aspiration, like wanting to break into retirement planning next year or growing their AUM by a certain percentage.
A well-crafted strategic plan serves as your north star and ensures that you channel your efforts towards achieving your long-term goals rather than towards short-term challenges. It also enables you to improve over time. When you have your plan fully documented, you can observe the impact of your strategy in action, compare your anticipated and real outcomes, and fine-tune your approach.
As part of this plan, you'll want to define your goals explicitly; we recommend using the SMART approach. You'll also want to clearly define the processes as they exist in your practice today, any changes that you may need to make to achieve your goals, and the explicit actions you're going to take to move forward.
Perhaps most importantly, define your "why." Why do you do what you do for your clients? What is it you want to be doing for your clients in the future? What do they get from your services? Laying out your mission and value proposition in this way will give you a sense of purpose and help clarify what your practice represents to your clients.
2. Communicate
After you've defined these foundational elements and made a strategic plan, it's time to communicate these elements to your staff and clients. It's good to have a clear understanding of your goals, value proposition, and strategy for yourself, but the benefit of this clarity will be limited if it's not shared with others, because they'll help you stay accountable.
Make sure your staff understands the different actions you're taking, the reasons behind them, and the intended effect. During prospecting conversations and in your marketing, make sure potential clients understand what makes you unique as a financial advisor and the experience they can expect when they select your services.
This kind of clear, straightforward communication ensures that your staff have confidence in you and can act independently to further your firm's goals and recall their experience with you in a positive light.
3. Ask for Feedback
The individuals with the greatest insights into your practice aren't necessarily your staff or other advisors—they're your clients. Reach out to your top 10 clients and ask them for feedback on your services. Why did they choose you? What do they like about your services? What do they like the least? Did they experience a positive or a negative impact from a recent initiative?
Capturing feedback to questions such as these is key to adapting your plan and focusing on what works. If nothing else, it will show your most important clients just how important they are to you.
4. Realize that Hiring More Staff isn't Always the Answer
As you grow your practice, you're going to run into challenges. As business owners, our first instinct is often to hire an expert that specializes in a given problem, or to expand capacity—essentially, to hire our way out of the challenge.
Sometimes this is the right answer, but it's no silver bullet. For example, maybe one of your more valuable clients is seeking a service you don't provide, like estate planning. To keep that client happy, maybe you hire an expert in estate planning. The client is receiving that extra service, but your other clients don't really need estate planning, and now you've got to pay for a resource you aren't using all that often.
Hiring more staff will be part of your growth, but the right timing is key. Ask yourself two questions:
Can I afford to hire someone right now?
Will they make a long-term contribution that's in line with my goals?
If the answer is yes to both questions, then staffing up is an acceptable option. Otherwise, it may be time to rethink your approach to the challenge you're trying to solve. Remember that not every issue needs to be solved immediately.
5. Don't Be Someone You're Not
If you've followed the other tips in this article, the odds are good that you've identified what it is you do best—the services that your clients respond to the most, the need you fill the best, the work that you enjoy doing the most, and so on. These are the strengths you should focus on as you grow your financial advisory practice.
You're going to see other advisors approaching financial services in a different way that appears to be working well. That's wonderful for them, but it doesn't mean the same approach will work for you. Worse, trying to replicate somebody else's approach dilutes the unique value you bring to your clients.
That doesn't mean you need to limit your service offering. If you want to grow, you're going to have to expand your offering at some point. Rather, you should keep your focus on your main value proposition. If you're ready to do so, hire an expert who can offer the services you consider most valuable. But as we discussed above, hiring isn't always the optimal path forward.
An excellent method of expanding your service offering without diluting your value proposition is to outsource. Third-party asset management organizations specialize in common services like investment management, estate planning, retirement planning, and more, making them an attractive option to growing practices that may not have the resources to hire full-time staff.
We've identified a study by Q8 Research called "The Power of Outsourcing Investment Management." If you're looking to diversify your service offerings without stretching your resources, we highly recommend reviewing it. Combined with the actionable tips in this article, outsourcing may be an optimal way to bring more time and capacity into your practice.