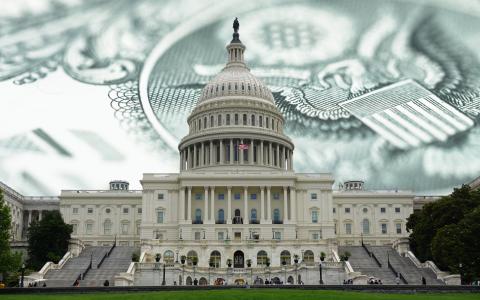 September 21, 2023
(Yahoo!Finance) - If the federal government closes its doors on Oct. 1, hundreds of thousands of federal employees will be either asked to go home or stay on the job without pay. But there is a potential quirk this time around: The tax collectors at the IRS may be able to keep working unimpeded.
The agency that processes returns and refunds for millions of Americans received billions of dollars in additional funding in 2022, and its most recent shutdown contingency plan lays out how that additional money could insulate the IRS from funding battles for at least a period of time.
"The IRS will not experience a lapse in appropriations," reads the plan. For the agency's 83,000 employees, it added, "normal IRS operations will continue" in the event of a shutdown.
An updated plan for fiscal 2024, which begins the same day as a shutdown, is expected to be released in the coming days, but experts say it's unlikely the agency's fiscal position has markedly changed dramatically in the last 12 months.
"Someone made the calculation that the last shutdown or previous shutdowns were painful enough in a way that they didn't have to be," noted Casey Burgat of the Graduate School of Political Management at George Washington University.
The additional money came from the Inflation Reduction Act, which set aside billions for the agency to focus on new efforts to chase down tax cheats, improve customer service, and refresh the agency's outdated technology.
Money was also available for overall operations but even if the IRS is able to tap this funding during a coming shutdown, it doesn't solve all of its challenges.
During a recent speech about advances at the agency, IRS Commissioner Danny Werfel said that for progress to continue "a consistent, reliable funding stream remains critical for the agency — both in our annual appropriations process and in maintaining Inflation Reduction Act funding."
Its annual appropriations — where the IRS derives the majority of its funds — remain up in the air, and the House and Senate differ by about $1.1 billion on the question of how much the IRS should receive in fiscal year 2024. The Grant Thornton tax advisory firm recently predicted that the IRS will be in the "crosshairs" in the coming overall spending debate.
The debt ceiling deal reached last summer also trimmed back some of the additional IRS funding, leaving the agency with $60 billion.
How previous shutdowns played out
In previous showdowns, the IRS was forced to dramatically cut back its operations.
A 2018 IRS contingency plan laid out plans to send home nearly 90% of the agency's employees. Some of those employees eventually were called back to the office as that year's standoff dragged on.
During a 2019 shutdown, IRS offices around the country were closed and billions in tax refunds were delayed as fears grew of disruptions to tax season before the government reopened.
"Live telephone assistance is not available at this time" was what taxpayers heard that year due to the staffing shortages.
Congress has until Sept. 30 to avert a government shutdown with other agency contingency plans being furiously revised as the deadline approaches.
Wings of the government from the Department of Defense to NASA have already updated their plans, revealing that thousands of workers are set to face furloughs.
'The laws around spending are somewhat vague'
But even with a shutdown likely within days, there remains considerable uncertainty across the federal government — including at the IRS — as to how things will actually play out if no spending deal is reached.
The actual process of shutting down "is inherently a political activity" noted Margaret Weichert, a former deputy director for Management at the Office of Management and Budget, during a panel discussion Wednesday.
Who is classified as exempt and who can be sent home has historically been a moving target, she noted, as "a lot of the laws around spending are somewhat vague."
Other agencies have also increasingly looked for creative ways to keep their own employees on the job as shutdowns have become a part of Washington's routine in recent years.
"I'm one of these folks who thinks shutdowns are stupid and costly, but I'm also struck by the fact that we have managed to lawyer our way out of shutdowns being as disruptive as they could be," Gordon Gray of the American Action Forum said in a recent interview.
"I think most people would be surprised about the fact that two-thirds of the federal workforce is on the job during a funding gap," he added.
Meanwhile, the possibility of a shutdown appears increasingly likely. House Republicans had hoped to strengthen their negotiating position by voting on a bill this week to delay a shutdown for one month.
But the proposal — which included spending cuts of more than 8% at many agencies and controversial border provisions — was attacked from both sides. That leaves it in a sort of limbo as House Speaker Kevin McCarthy looks for off-ramps to the crisis.
There is currently little expectation that the bipartisan compromise needed to avert a shutdown is likely, at least in the coming days.
More and more lawmakers acknowledge that some government shutdown may be inevitable. The growing question is not if there is a shutdown, but how long it plays out.
By Ben Werschkul · Washington Correspondent