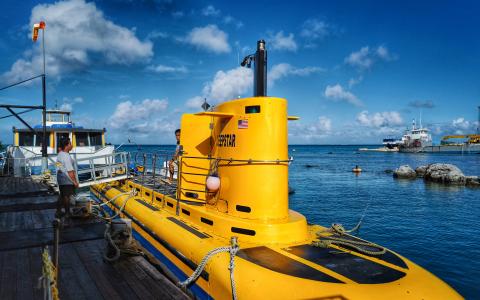 November 20, 2020
An alleged financial advisor, Matthew M. Piercey, has been arrested in California by the FBI, after involving authorities in a submarine chase. The California man was wanted by the FBI for his part in an alleged $35 million Ponzi scheme.
Last Thursday, Piercey was charged with wire fraud, mail fraud and witness tampering in U.S. District Court for the Eastern District of California. According to websites run by the FINRA and the SEC, he is not a registered broker or investment advisor.
On Monday, the FBI in Redding, California were allegedly led on a chase that ended only after the suspect was arrested after diving underwater in a local reservoir using a small, submersible device. According to a court document, he "attempted to flee from arresting agents and was only arrested after a highway chase and approximately 25 minutes spent in Lake Shasta with an underwater submersible device."
Piercey "led law enforcement on a vehicle chase that went off-road twice in residential neighborhoods including next to an apartment complex, and then later onto Interstate 5 northbound," according to the U.S. Attorney's office memo. "Law enforcement tracked Piercey's vehicle from the air during the chase. Then, Piercey abandoned his truck near the edge of Lake Shasta, pulled something out of it, and swam into Lake Shasta."
"Piercey spent some time out of sight underwater where law enforcement could only see bubbles," according to the documents. "He remained in the frigid water for approximately 25 minutes. When Piercey finally emerged from the lake, law enforcement discovered that he had a Yamaha 350LI underwater submersible device."
According to the U.S. Attorney's office, Piercey claimed to use an investment strategy that utilized algorithms and cryptocurrency mining, but in practice he used investor funds to pay personal and business expenses. 
"Piercey entered a pattern of paying old investors lulling payments with new investor funds, while making various false and misleading statements, half-truths, and omissions to raise new money and to hide the constant downward financial spiral," federal prosecutors wrote, describing Piercey's "sole occupation."
Piercey could face a maximum statutory penalty of 20 years in prison if convicted and a fine of up to $250,000, "or twice the gross gain or loss, whichever is greater, for each wire fraud and mail fraud count; 20 years in prison and a fine of up to $250,000 for each witness tampering count; and 20 years in prison and a fine of up to $500,000 or twice the value of the property involved, whichever is greater, for each money laundering count," federal prosecutors said.