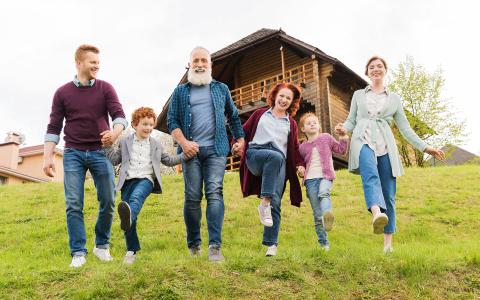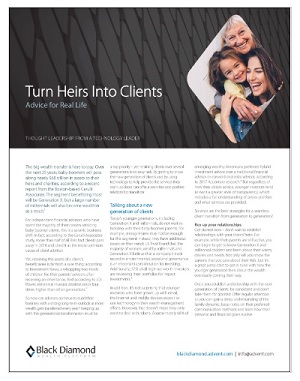 Change is coming. Now is the time to start cultivating relationships with the children of your clients.
According to a recent report from Cerulli Associates, over the next 25 years, baby boomers will pass along nearly $68 trillion in assets to their heirs and charities.
As an advisor, this means not only will you be dealing with new clients, but also that these clients come with new expectations.
Keeping your clients' heirs is by no means a sure thing. In fact, a whopping two-thirds of children fire their parents' advisors after receiving an inheritance, says Investment News. To make matters more dire, millennial investor attrition risk is four times higher than other generations, according to J.D. Power. 
The time to act is now. The trend is already in motion. More than half of all RIAs had clients pass away in 2016 and they cited it as the most common cause of client attrition, explained another Cerulli study. But thanks to Black Diamond's new whitepaper, the path to retaining current clients' heirs is easier to navigate.
The "Turn Heirs Into Clients" whitepaper lays out what is important to the next generation of clients and what they are looking for in an advisor. For millennials and Generation X, strong returns may not be enough. Did you know that a company's track record in environmental, social, and governance is an important investment consideration among those groups? That's just the sort of information that Black Diamond's whitepaper provides.
Download Black Diamond's "Turn Heirs Into Clients" Whitepaper
The whitepaper lays out important considerations when it comes to how the next generation is looking to interact with advisors. It's a generation that grew up with email, cell phones, and the internet, meaning technology is integrated into every part of their lives. You will need to demonstrate that you offer comprehensive digital client experiences on par with what they are used to experiencing every day. Black Diamond's new whitepaper offers guidance in building a client-centric platform that will help you cater to your younger client's needs. 
You need to show the next generation what you have to offer, and Black Diamond's new whitepaper is here to show you how. Whether you specialize in an area such as tax effectiveness or sustainable investments, clients need to know how that can benefit them.
Check out Black Diamond's whitepaper to learn how to harness technology that will help you get to know the next generation of clients before it's too late.
Download Black Diamond's "Turn Heirs Into Clients" Whitepaper