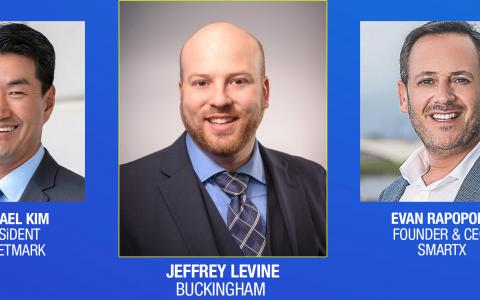 August 6, 2022
Jeff Levine to offer attendees the "why" advisors should be working with TAMPS to make their practices and firms more valuable.
He calls himself the "king of nerds" – even nerdier than Michael Kitces himself -- when it comes to demystifying the nuances of advisors making the TAMP connection.

Michael Kitces the financial advisors' industry BIG when it comes to practice management. But, when Michael needs the gritty details that are when he calls on his buddy Jeff Levine to step in by dazzling his audiences with the minutia – that actually makes the process make more sense.
Jeff's perils of wisdom are yours for FREE (as long space is available) at the CE approved 2022 TAMP Growth Summit on August 16 at 2 PM Eastern. Click here to learn more or register.
Jeffrey Levine, Buckingham, and America's Best TAMPs
Last week Buckingham Strategic Partners the $34.7B TAMP added to the roster of America's Best TAMPs. You can check out their listing on The Wealth Advisor's Digital Dashboard at TAMPS.COM or download the updated FREE PDF magazine HERE.
Back in 2020, Buckingham recruited both Michael Kitces to Serve as Head of Planning Strategy and Jeffrey Levine to Serve as Director of Advanced Planning.
Buckingham is among the nation's largest providers of independent financial planning and turnkey wealth management services, employing nearly 500 professionals nationwide. Buckingham's rapidly growing RIA subsidiary, Buckingham Strategic Wealth, has a 140-person advisory team and over 40 locations nationwide.
In addition, its wealth management services subsidiary, Buckingham Strategic Partners, recently merged with Loring Ward's TAMP, and now serves thousands of independent financial advisors. Each of the Buckingham Wealth Partners' lines of business will benefit directly from the extensive industry experience and foresight Kitces and Levine bring.
Kitces' popular industry blog for financial advisors, Nerd's Eye View at Kitces.com, written in partnership with Levine, along with his weekly Financial Advisor Success podcast, collectively reaches 250,000 readers and listeners every month.
Kitces' well-received industry perspective and thought leadership continues to grow in recognition and demand and is reflected in the demand for Kitces' keynote presentations at nearly 50 financial advisor conferences every year, and more than 600 over the past ten years. Notably, in 2019 alone, Kitces and Levine collectively provided more than 20,000 hours of CFP CE credits to the advisor community.
Learn More
Our editor, Scott Martin recorded a video reminder, playing below for advisors to know what's to come at the 2022 TAMP Growth Summit. Take a few minutes to listen to the lineup. It's everyone that would matter most for both inspiration and activation.
If you're inclined to want to know what Jeff Levine says and think to make your firm more valuable, we recommend that you register for this event today when it will cost you nothing (as long as space is available).
Related: The 2022 TAMP Growth Summit Is Coming: Stop Struggling To Survive And Start Thinking About Thriving