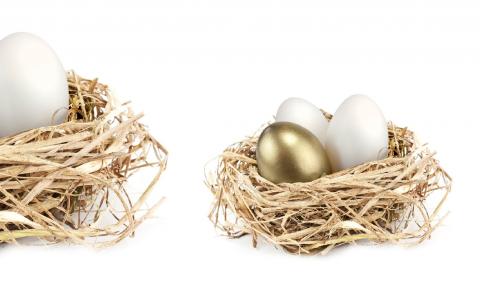 November 27, 2019
Stand out from the crowd by delivering sophisticated retirement income plans from multiple income streams.
When it comes to your clients' retirements, there is no need to put all of your eggs in one basket. Covisum's "The Extinction of the Nest Egg" white paper explains that modern Americans now have multiple possibilities when it comes to retirement income, and how, with the right tools and knowledge, advisors can deliver sophisticated retirement income plans that pull from multiple income streams. It's must reading for every advisor.
The white paper illustrates how the singular term "nest egg" is outdated, and how retirement in today's world should be viewed more like a carton of eggs. It explains how the current tax system, Social Security, and various other factors interact to affect your clients' cash flows, and how advisors can identify and tackle these issues, while clearly communicating the complexities to their clients in a way that makes them stand out from the crowd.
With at-home tax software and do-it-yourself investing options, it's getting harder and harder for financial advisors to show their value. Many Americans believe that they already have retirement figured out and that it's simple, but in reality there are numerous factors they have not considered. That's why financial advisors with specialties have become successful. Expertise can be an effective differentiator in the marketplace. The Extinction of the Nest Egg white paper shows how advisors can provide expertise to help deliver better outcomes.
Today, Americans have many choices when it comes to retirement savings. There are 401(k)s, 403(b)s, individual retirement accounts (IRAs), Roth IRAs, fixed annuities, variable annuities, certificates of deposit, and health savings accounts (HSAs), not to mention retirement income from Social Security or possibly government- or employer-funded pensions. Each of these income sources have different rules and consequences, and they're taxed or not taxed differently. This gives retirees "a carton of retirement income possibilities."
Covisum's white paper uses case studies to examine various retirement strategies, and how different Social Security strategies and tax-efficient strategies can affect retirees. This helps advisors understand the variety of factors that influence a client's tax bill, and shows them the many opportunities that exist to help clients add dollars to their retirement income. It illustrates how advisors can help their clients crack the right egg at the right time.
With all the complicated rules and intricate interactions, it can be difficult to show clients how their choices affect one another in retirement. The Extinction of the Nest Egg white paper provides direction when it comes to choosing the technology that will help advisors clearly communicate these complex details.
In the white paper, there is a checklist that helps advisors evaluate their current software. Technology can be the difference when it comes to standing out from other advisors. As Covisum's white paper explains, technology can empower you to deliver the type of personalized advice that today's consumer has come to expect, while also elevating the skills advisors already possess. In the end, the right technology will make advisors more efficient, and allow them to spend their time growing their business.