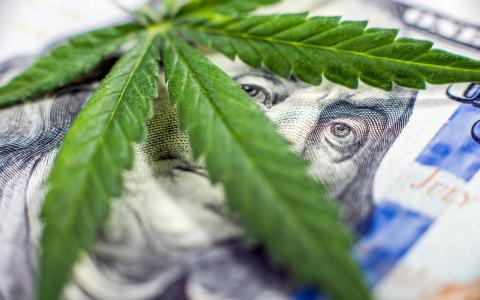 August 22, 2018
Although there are those members of the cannabis industry who might view the latest $4B investment between beer giant Constellation Brands and marijuana company Canopy Growth as a signal that the evils of corporate America have infiltrated their precious space and are planning to take it over come hell or high water, business professionals with their fingers on the pulse of the ganja game argue that beer and marijuana mergers are actually a positive for the entire cannabis community.
"I think a lot of people are quick to knee jerk this as bad," Cannabis Now Magazine CEO and publisher Eugenio Garcia told Forbes. "But it is giving a cannabis company access to hundreds of millions [or even billions] of dollars in working capital from which they can make light years faster expressions than any other competitors."
These deep pocket developments, Garcia explained, will allow the cannabis plant to be properly researched and "expressed in a way that it never could with mom and pop operations."
So far, Constellation Brands, Molson-Coors and Heineken have all thrown substantial money into creating cannabis-infused beverages – a rapidly expanding sector that is predicted to bring $15 billion annually to the Canadian cannabis market alone.
But Garcia says the alcohol industry's involvement is not necessarily a sign that the cannabis trade is about to be swallowed up by faceless conglomerates that care more about generating the almighty dollar than they do the cannabis plant itself.
Yet, he believes the cannabis media is responsible for helping booze executives make well-informed choices.
"If the people at the heads of these companies have access to good education, good media content, then they'll make better decisions on how to use their resources," he said.
Regardless of how everything shakes out with the big dogs, there will still be plenty of opportunities for the small to medium size entrepreneurs to flourish in the cannabis market.
Garcia, who attends the majority of the cannabis business expos and other industry events that take place around the globe, says he has noticed an uprising in what he calls "micro-players" coming onto the scene. These are the individuals, the couples and the families that have developed a modest cannabis business (some earning as little as $50,000 per year) and they are using it to support their families. Most of them, he says, have no interest in becoming the size of Canopy or MedMen.
"You're going to see more of this smaller business model," Garcia said. "Much like in the agricultural, farm to table movement around the U.S people will start producing cannabis legally for their immediate geographic locations. You go to any city in the U.S. and you're going to find a microbrewer that is only putting out enough quantity to support a couple thousand people in their neighborhood. People love that. And that's going to be very similar, I believe, with cannabis."
But are there enough cannabis customers willing to support this independent direction? Garcia believes there is.
"There will be people who have no problem walking into a liquor store type of dispensary and grabbing a pack of pre-rolled cannabis cigarettes, and that's what they want," he explained. "But there's going to be equal, if not more consumers that will want to know where the cannabis came from. They will want to know that it's organic. They will want to know the grower. They will want to know where the genetics are from. And they want to consume it in a more ritualistic way than a party, liquor kind of expression.
"That's what I see at these trade shows," he continued.
"I see companies that are getting involved -- worth billions -- that will help with the science and growth of the cannabis plant. I also see the micro players becoming more powerful in their geographic location. And they're very happy with that."
Cannabis may be shaping up as a way for the beer companies to increase profits, but with the ease of entrepreneurship these days, Garcia has faith that it will also help liberate struggling families from financial hardship and the same 9-to-5 grind that he dreamed of escaping before starting Cannabis Now.
"The majority of people actually don't have the ambition to be billionaire, global powerhouses," he said.
"All they want is to feed their family and do something that fulfills them. And it's amazing how much that resonates with the cannabis plant. We're going to see a lot of small business across the U.S. using cannabis as a way to free themselves from poverty and live a happy life."