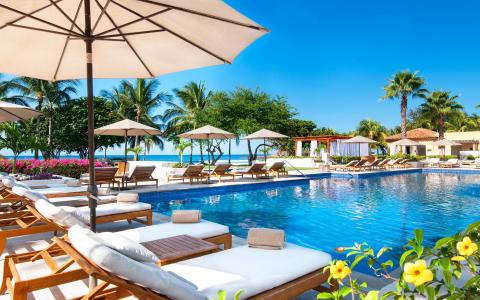 March 21, 2018
Few places in the world do world-class service and aesthetic bliss as they do in Punta Mita. Nestled within a 1,500-acre private peninsula situated in the Riviera Nayarit, just north of Puerto Vallarta, Punta Mita is the type of place where heavenly dreams of idyllic tropical getaways turn to reality.
The gated, ultra-luxurious locale is home to multimillion-dollar villas, 15 residential communities with a variety of real estate ownership options, two Jack Nicklaus Signature golf courses, a tennis center with ten courts, and two top shelf luxury hotel brands: St. Regis Punta Mita Resort and Four Seasons Resort Punta Mita.
Even during peak seasons, the area is so tranquil and intimate that one can hear the soft melodies of indigenous birds blend with the relaxing echoes of crashing ocean waves.
It's stunning views and private estates have enticed celebrities, tastemakers, and high-profile tech executives alike, including the Kardashian clan, luxe lifestyle-guru Gwyneth Paltrow, and Microsoft billionaire Bill Gates who, in 2014, invested in 48 acres of beachfront property along with the Four Seasons Resort Punta Mita.
The sanctuary-inspired community is a natural destination to unplug and rejuvenate.
Over the years, it's won multiple accolades to boot. This year, both Four Seasons Resort and St. Regis Resort are nominated for Travel + Leisure World's Best Awards 2018.
With its combination of accessibility, privacy, and uncompromised splendor, it's easy to see why the peninsula is quickly becoming a utopia for lavish luxury.
Real estate sales are booming, and Its recent influx of high-end clients is an endorsement of the region's growing potential. Below, six reasons why it's time to jump on the Punta Mita bandwagon.
Unrivaled Geography
With its close proximity to ten major airports in the U.S. and Mexico – Punta Mita is the ideal destination for a quick getaway.
About 25 miles north of the Puerto Vallarta International Airport, it only takes a reasonable 45-minute drive through long picturesque stretches to reach the resort town's main entrance. For the ultimate convenience, those with their own jet or chartered planes can take advantage of the community's private terminal.
Surrounded on three sides by dazzling aquamarine waters, Punta Mita has long been distinguished by the beauty of its pristine beaches and unpolluted waters. The community's north facing coastline rests along the Litibu Bay.
The Kupuri and Iyari estates rest along this serene and secluded area and offer spectacular developments, a private beach club, and striking ocean views.
On the west facing coastline is an enclave of private villas and resorts that hug the Pacific Coast. Here, the swimmable beaches offer a bevy of aquatic adventures to choose from: surfing, scuba diving, windsurfing, paddle-boarding, among a host of others. On the eastern side of the peninsula, some of the peninsula's most remarkable residences flaunt unencumbered views of the Banderas Bay.
Punta Mita's breezy, balmy climate is a year-round draw.
Because it shares the same latitude as the Hawaiian Islands, gentle sea breezes keep the temperature comfortable during the dry, warm winters and through the hot, semi-humid summers. Hurricanes are rare in this stretch of Pacific Coast, and even during the wet season (June – September), rain typically occurs in the evening and clears up by morning.
With an average of 345 days of sunshine per year, Punta Mita boasts one of the most pleasant climates in the world.
A Master-Planned Getaway by DINE
Developed by DINE, one of Mexico's premier real estate and resort developers, Punta Mita was designed as a complete getaway and has evolved into a perennial pick to relax and unwind for the world's most affluent individuals.
What makes the master planned community stand out is its unique geographical location.
Once a quiet fishing village and surf retreat, water surrounds the town on three sides, which naturally creates a sense of peace and privacy.
To further enhance the feeling of exclusivity, DINE integrated various security measures to ensure the privacy and safety of its prestigious residents.