July 13, 2018
S&P 500 futures are flattish after JPMorgan kicked off earnings for the banks pointing to an open just below the crucial resistance level at 2,800.
Nasdaq e-minis are a smidge higher after the index cruised to a record on Thursday.
There wasn't anything incremental on the U.S.-China trade war front, so it's not surprising that futures are relatively quiet this morning -- and brushing off Trump's brutal takedown of Theresa May in a Rupert Murdoch-controlled newspaper and the shock announcement that the DoJ is appealing the recent Time Warner/AT&T merger ruling: T shares are off ~1.6%, with Raymond James out downgrading the stock even though they are "firm advocates that the court got the original decision correct."
But like everything else we've seen over the past two and a half weeks, it appears as though the only thing that will keep this market down, albeit temporarily, is any setback involving the potential negotiations between the U.S. and China.
Until then, all eyes are on whether a clean break above 2,800 will finally happen and, if it does, whether a test of the record 2,873 from January is next.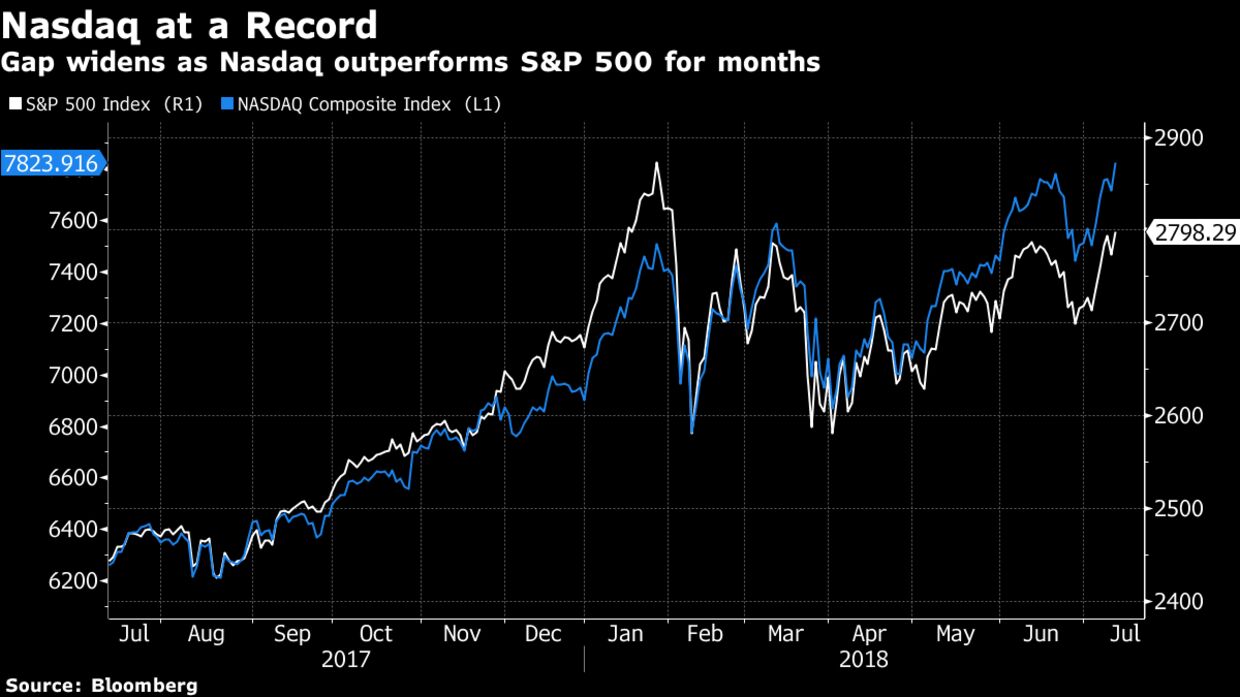 Fleeing Equities Ahead of Earnings
Even with the recent market strength, it's worth noting that investors pulled out $1.85 billion from U.S.-based equity funds in the week ended Wednesday, which is the sixth straight week of withdrawals, according to Lipper data.
Focus is expected to shift from the macro to the micro as second-quarter earnings season gets underway, that is unless something cataclysmic occurs on the trade war front -- though you never know what could spook the tape given such a heavy slate of world leadership meetings, from Trump rubbing elbows with Putin to the China-European Union summit in Beijing and the potential for a barrage of tweet threats ahead of the G-20 meeting in Buenos Aires.
The first heavy week of earnings will feature reports from Netflix, Microsoft, IBM, EBay, and Taiwan Semi, whose disappointment last quarter sparked a rout in the chip stocks.
Tobacco mega-cap Philip Morris will also release numbers, and recall they had a similar but even worse situation than Taiwan Semi last go around, where a whiff in shipments took shares down ~16% and caused a bloodbath across the consumer staples space - see an updated view on the sector in Wednesday's Taking Stock).
We'll also get commentary from a General Electric in breakup mode, oil service major Schlumberger after warning on profits a month ago, several of the biggest rail companies, a couple of big metal names like Alcoa and Nucor, and more banks from Goldman to Morgan Stanley and Bank of America.
Notes From the Sell Side
Another strategist is recalibrating their sector breakdowns to shift things more defensively. RBC strategist Lori Calvasina, in a note titled "Getting A Little More Domestic/Defensive In Our S&P 500 Sector Calls," is upgrading large cap health care to overweight, large cap REITs to market weight, and downgrading large cap industrials to market weight.
Goldman sees a "tactical opportunity" for the cybersecurity stocks ahead of the midterm elections.
Meanwhile, Keybanc is getting increasingly positive on Blue Apron, which has doubled in the past three months, after checks suggest expansion of its on-demand meal kits at five additional Costco locations in the metropolitan U.S. area.
Morgan Stanley says yesterday's report of talks between Amazon and a startup called Xealth as confirmation that the company is looking to enter the medical supplies space, which represents $45b/$10b of revenue/gross profit potential just on the B2B side of things, and sees potential EPS headwinds to drug distributors CAH and MCK. The bank is also out with a big call on WWE, lifting its price target to a Street-high $100 in what they call a "rare investment case."