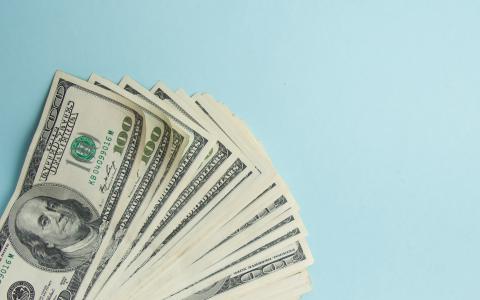 September 4, 2018
There's just something about power couples. When two highly successful individuals get together, you've got a relationship that epitomizes a dream team, and that's easy to admire.
After all, it's hard work maintaining your own career and life on top of a powerful marriage.
Apart from success, one thing that power couples often have in common? Money. At least, for the most iconic power couples.
But which half of each power duo has a higher net worth? Jay Z is worth more than Beyoncé, but Kim Kardashian West is the breadwinner in her marriage with Kanye. And some — like David and Victoria Beckham — are on completely even footing when it comes to wealth.
Below, take a look at some of the richest, most well-known power couples — from celebrities to business moguls — and see who has a higher net worth.
Hillary and Bill Clinton: $125 million
Bill Clinton net worth: $80 million
Hillary Clinton net worth: $45 million
Politicians Hillary and Bill Clinton have racked up quite the fortune since Bill's tenure as president ended. As of 2016, they had earned $240 million, according to Forbes.
They both brought in money through six-figure speaking engagements and writing books, but Bill has a higher estimated net worth of $80 million in part due to a consulting job and advising billionaire Ron Burkle. From these two gigs, he made a collective $39 million, reports Forbes.
Sarah Jessica Parker and Matthew Broderick: $145 million
Sarah Jessica Parker net worth: $100 million
Matthew Broderick net worth: $45 million
Hollywood power couple Sarah Jessica Parker and Matthew Broderick have raked in most of their money from the television and movie industries. Parker has also made money off of her perfumes and endorsement with Garnier, and Broderick has brought in cash from his work on Broadway.
Kelly Ripa and Mark Consuelos: $160 million
Kelly Ripa net worth: $120 million
Mark Consuelos net worth: $40 million
Kelly Ripa and Mark Consuelos met on the set of soap opera "All My Children." In addition to acting, Ripa has credits as a television producer and a TV host. In 2016, she earned $17 million as a solo host on morning show Live!, according to Forbes. She's also been a spokeswoman for various companies, such as Tide and Pantene.
Since acting on "All My Children," Consuelos has guest starred or had recurring roles on many television shows.
Serena Williams and Alexis Ohanian: $189 million
Serena Williams net worth: $180 million
Alexis Ohanian net worth: $9 million
Tennis champion Serena Williams has built her reported $180 million fortune by winning matches and taking on endorsement deals. According to Forbes, she has more than 12 corporate partners and has earned $84 million in prize money.
Her husband Alexis Ohanian earned his reported $9 million net worth founding news site Reddit and online company Breadpig. He reportedly gives all of Breadpig's profits to organizations that need funding.
Nicole Kidman and Keith Urban: $205 million
Nicole Kidman net worth: $130 million
Keith Urban net worth: $75 million
Breaking into movies at age 16, Nicole Kidman has spent a lot of time building her $259 million net worth, as reported by the Australian Financial Review in 2017. In 2006, she married country music singer Keith Urban, who has his own estimated net worth of $75 million thanks to his music and judging on American Idol.
They reportedly spend a lot of their wealth on real estate.
Justin Timberlake and Jessica Biel: $248 million
Justin Timberlake net worth: $230 million
Jessica Biel net worth: $18 million
Pop star Justin Timberlake has been making millions since he was in N'SYNC. Now a solo artist, he also makes money through endorsements and a string of businesses: tequila, a clothing line, and co-owned restaurants. He also invested in MySpace.com in 2012.
He married wife Jessica Biel in 2012, who accumulated her estimated $18 million net worth by starring in the popular TV show "7th Heaven" as well as a number of movies.
Mila Kunis and Ashton Kutcher: $265 million
Ashton Kutcher net worth: $200 million
Mila Kunis net worth: $65 million
Celebrity power couple Ashton Kutcher and Mila Kunis met on the sitcom "That '70s Show." Kunis has built her weath by appearing in numerous movies and acting as the voice of Meg on "Family Guy." While Kutcher has also built his net worth on working in the TV and movie industries, he also created A-Grade Investments with Guy Oseary, which is worth $250 million, according to Forbes.
Will Smith and Jada Pinkett Smith: $320 million
Will Smith net worth: $300 million
Jada Pinkett Smith net worth: $20 million
Actor, producer, screenwriter, and rapper Will Smith can thank Hollywood for his estimated $300 million net worth. From June 2017 to July 2018 alone, the 49-year-old earned $42 million, according to Forbes.
His wife, Jada Pinkett Smith, has also earned her estimated $20 million net worth in the entertainment industry, but she's also delved into other careers, including writing and fashion.
Kanye West and Kim Kardashian West: $510 million
Kim Kardashian West net worth: $350 million
Kanye West net worth: $160 million
Kim Kardashian West has built her $350 million empire through reality television, a mobile game, cosmetics, a line of perfumes, and her own branded Emojis. While Kim recently implied that husband Kanye West is a billionaire, he has a reported net worth of $160 million.
Kanye has built his wealth not just by producing, rapping, and acting, but through business ventures such as his shoe line for Nike called Air Yeezy and another shoe line with Louis Vuitton.
George and Amal Clooney: $510 million
George Clooney net worth: $500 million
Amal Clooney net worth: $10 million
George Clooney was recently dubbed the highest-paid actor on Forbes' 2018 Highest-Paid Celebrities list. He made $239 million in the past year alone and sold the tequila company he co-founded, Casamigos, to Diageo for $700 million.
Amal Clooney may not have as high of a net worth as George, but her $10 million net worth and career as a human rights lawyer, activist, and author are equally, if not more, impressive.
Tom Brady and Gisele Bündchen: $560 million
Gisele Bündchen net worth: $380 million
Tom Brady net worth: $180 million
Together, Gisele Bündchen and Tom Brady are worth more than a quarter of a billion dollars. Supermodel Bündchen is the breadwinner in this relationship, raking in $30.5 million in 2016 and $17.5 million in earnings in 2017, thanks to fragrance, jewelry, and shoes campaigns, according to Forbes. This makes Bündchen the second highest-paid model in the world, with an estimated net worth sitting around $380 million.
Meanwhile, Brady is the third highest-paid player in NFL history. He's earned $197.2 million over the course of his 18-season career and currently has an estimated net worth of $180 million.
David and Victoria Beckham: $900 million
David Beckham net worth: $450 million
Victoria Beckham net worth: $450 million
Together, the Beckhams are just shy of $1 billion, with both having a hefty estimated net worth of $450 million each.
David Beckham is one of the highest-paid athletes of all time, bringing in more than $800 million in career earnings, according to Forbes. He's also earned at least $42 million in endorsements.
Meanwhile, former Spice Girl Victoria Beckham has created her net worth out of brand sponsorships, modeling contracts, and a high-end fashion label and discount clothing line at Target.
Marissa Meyer and Zachary Bogue: $900 million
Marissa Mayer net worth: $600 million
Zachary Bogue net worth: $300 million
Marissa Mayer has made waves in the tech industry. She was one of the first employees at Google — netting her around $300 million, according to Money— and she was the former CEO of Yahoo, where she earned a reported $400 million. Most recently, she cofounded incubator Lumi Labs.
She married venture capitalist and entrepreneur Zachary Bogue, managing partner at Founders Den, in 2009. He invested in several successful startups, including Square and Metamarkets, and co-founded investment fund Data Collective, all of which helped him grow a net worth of $300 million.
Ivanka Trump and Jared Kushner: $1.1 billion
Jared Kushner net worth: $800 million
Ivanka Trump net worth: $300 million
There's a lot of speculation on Ivanka Trump and Jared Kushner's combined net worth, but they've been estimated to be worth as much as $300 million and $800 million, respectively. Trump earned at least $12 million in 2017, largely from a book advance, severance pay for leaving the Trump Organization, her stake in the Trump International Hotel in Washington, DC, and her fashion brand.
The same year, Kushner earned $5 million in passive income from holdings in real estate and another $5 million in capital gains from selling a shopping mall, according to MONEY, citing documentation released from the White House.
Beyoncé and Jay Z: $1.25 billion
Jay Z net worth: $900 million
Beyoncé net worth: $355 million
This music power couple has earned their wealth mainly through music producing credits, album sales, live performances, and worldwide tours. That number may be even higher when their On The Run II stadium tour finishes, which is raking in $5 million a night, according to Forbes.
They both have significant stakes in music streaming service Tidal, and Jay Z has stakes in Armand de Brignac champagne and D'ussé cognac. With an estimated net worth of $900 million, most of Jay Z's wealth comes from his entertainment company, Roc Nation. He's also invested in Jetsmarter and signed a 10-year, $200 million deal with Live Nation last year.
Meanwhile, Beyonce has an estimated net worth of $355 million. Her Formation World Tour grossed a quarter of a billion dollars, and she has a line of gym wear and an on-demand vegan meal delivery service.
Evan Spiegel and Miranda Kerr: $2.6 billion
Evan Spiegel net worth: $2.6 billion
Miranda Kerr net worth: $45 million
Snapchat CEO and cofounder Evan Spiegel has a net worth around $2.6 billion, largely due to the 18% share he owns in Snapchat. He married supermodel Miranda Kerr in 2017, whose estimated net worth of $45 million gives them a combined wealth of $2.645 billion. Her wealth comes from her modeling career and cosmetics line Kora Organics, which she owns.
Mark Zuckerberg and Priscilla Chan: $83.8 billion
Mark Zuckerberg: $65.8 billion
Priscilla Chan: $18 billion
Facebook CEO Mark Zuckerberg's estimated net worth of $65.8 billion increases as the stock for Facebook climbs. He's added an average $9 billion to his wealth every year since Facebook debuted on the New York Stock Exchange.
He's married to his college-sweetheart, Priscilla Chan, a pediatrician and philanthropist, who has a reported net worth of $18 billion.
They plan to give away their fortune as members of the Giving Pledge.
Bill and Melinda Gates: $95.8 billion
Bill and Melinda Gates: $95.8 billion
Bill and Melinda Gates intend to give away most of their $90 billion fortune, and they donated around $4.6 billion to the Bill & Melinda Gates Foundation in 2017 alone. According to Forbes, Gates only owns a little more than 1% of his shares in Microsoft, the software firm he founded with Paul Allen, having "sold or given away much of his stake."
Jeff and Mackenzie Bezos: $163.3 billion
Combined net worth: $163.3 billion
Amazon CEO Jeff Bezos owns 16% of Amazon and purchased The Washington Post in 2013 for $250 million, contributing to his $160 billion-plus net worth. He met his wife, Mackenzie Bezos, while working at the same investment firm, which they both eventually quit before moving to Seattle to found Amazon. Mackenzie is now a novelist.